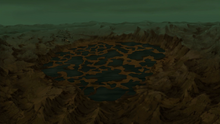 "quote text"
―attribution, episode
Mugic Origins
Background Information
Milla'iin and his Coral Fighters and Minions were digging a canal from the Cordac Falls Plungepool to the Marsh, when Chaor's men attacked them. Chaor planned to use his giant canon to light up the oil at the Marsh, but the M'arrillians where able to go underneath the oil to survive, and Rarran had hit the Minions with an attack that helped them survive.
Geography
Appearance and Scenery
The Marsh is surrounded by rocky hills and the Marsh itself is an oil field. The oil is dark green with rocky trails all around, seperating the oil into pools.
Notable Inhabitants
Card Information
Textbox
Strategies
Release and Promotion
TV Show
Appearances
Cards and Scans
Quotes
"quote text"
―attribution, episode
Gallery
Notes
Related Articles
External Links
Community content is available under
CC-BY-SA
unless otherwise noted.