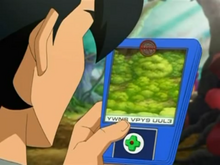 "quote text"
―attribution, episode
Mugic Origins
Background Information
Gilex Grove is a lushious sceneric part of the Forest of life before it was destroyed by some bad Chaotic players. Since it was destroyed it is now an Ultra, Ultra rere location.
Geography
Resides in the Forest of Life
Appearance and Scenery
The scan in tom's scanner in episode a Rare Hazard you can see it appears to be just large green trees in one area
Notable Inhabitants
Laarina and Lomma have been seen trying to capture the chaotic players destroying the area. Possibly some other creatures that reside in the Forest of life inhabit Gilex Grove.
Card Information
The card or scan has been seen in tom's scanner when finding the chaotic players.
Textbox
Strategies
Release and Promotion
TV Show
Appearances
a Rare Hazard
Cards and Scans
Tom
Bianca
Bruno
Dimitri
Simon
Quotes
"quote text"
―attribution, episode
Gallery
Notes
Related Articles
External Links
Community content is available under
CC-BY-SA
unless otherwise noted.